Well, I think it's about time I get back on this blogging bandwagon.
Truth is, I just haven't had that much to say lately. I can't put my finger on the exact reason, but I have been very melancholy the last couple weeks. I'd love a fresh set of ideas for blogging, more reasons to share what is on my mind and heart. So if you have any fun ideas, please share!
But for today, a book review will have to do...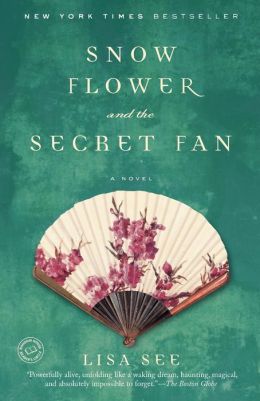 This book, Snow Flower and the Secret Fan, was amazing!! It drew me in right away and it was one of those books you just don't want to put down. It really made me stop and think about friendships in a whole new way. It made me want to live with no regrets. The book also gave a very accurate glimpse into what life was like in China in the 1800's. It turned me on to reading another fiction piece set in China, below. I give this book an A+.
The Bonesetter's Daughter was a more modern book partly set in China, partly in America. The setting was a great contrast to Snow Flower. This book was reflective both in its' writing as well as how it made me reflect as a reader. I really enjoyed parts of this book, but not all. I would give it an A-.
This book is a Christian Fiction novel that my mom bought me for Christmas. It is a split setting, the first part being set in 1974 soon after the passing of the Roe vs. Wade law regarding abortion. The main character has a choice to make...and weighs her options is a strong way. The second part of the book is set in 2008 and shows the ripple effect of the choice she made all those years ago. From an adoptive mother's standpoint, I highly recommend this book if you have any role in adoption, or if you are related to anyone who is. If you aren't, it can be a great introductory educational tool in teaching others about adoption. It is a very good story, well-written and lingers in your mind long afterwards. This book gets an A+ from me.
Happy reading, friends!
~Peace